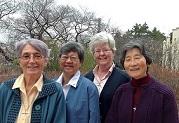 Resources
The Church offers us a great treasure in its collection of documents, encyclicals, letters, speeches ...
...
Catholic Social Teachings
These teachings inform our judgement and action as believers.
An introduction to Catholic Social Teaching
International Union of Superiors General

What is the UISG?

Inter-Religious Dialogue
National Leaders concur with the Pope that Inter-Religious Dialogue is a necessary condition for peace in the world.
Inter-Religious Organisation in Singapore
Archdiocesan Catholic Council for Inter-Religious Dialogue