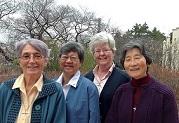 News and Events
Here are the latest highlights of our IJ family.
Congratulations

Sr Christiane Chua is recognised for her work as a Clinical Pastoral Care Counsellor at the Mt Alvernia Hospital and was given the Healthcare Humanity Award 2016 in May.


News about IJ Sisters
Our 5 Birthday Girls
Memories of CHIJ Town Convent remain
Sr Henry Tan RIP
Asian Forum
Triple Joy
The Devoted Pioneers of girls' education in Malaya
Get-together of Srs ...
Events in IJ Schools and Mission
IJ Ambassadors

Events in our IJ Schools

IJHCC Sports Day 2016