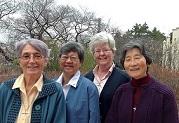 Spirituality
Spirituality can be defined as a way where the seeker searches for the ultimate meaning of life.
For all Christians, the story of Jesus is both a guide and mirror for this journey.
IJ Spirituality
For the IJ sisters, our spirituality is rooted in the Incarnation of Jesus - "God's love for us is revealed when God sent into the world His only Son so that we can have life through him"- Jn 4:9

This month's reflection is on
Our Only Security, God's excessive love for us.
The Prayer service is on
We are companions on a Journey
Prayer
Through prayer and contemplation, we encounter and deepen our relationship with God, which transforms our way of looking at situations and impacts our response.
The Mass
Examen of Consciousness
Bl Nicolas Barre's Writings
Fr Barre's writings are to be shared with the general public too.
Apostolic Spirituality, Divine Providence, Freedom, Hope, Humility,Prayer-Cobtemplation, Spirit of the Vows
Thoughts on Education
Prayer of Abandonment
Some Quotes