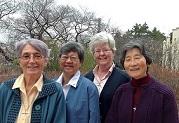 Welcome
Welcome to the CHIJ Singapore sisters' website.
May you find inspiration, hope and courage in our history and our spirituality.
Who we are

We are an international group of Catholic Religious Sisters serving in 4 continents, desiring
to centre ourselves in God, following Christ by dedicating ourselves in total abandonment to the proclamation of the Good News.
read more
Our thrust and direction
"Choose Life: Giving shape to our Vision"as clay in the potter's hands" Jer 13:6 - is our direction for the next six years as we allow the Spirit to guide us.
Founder - Bl Nicolas Barre
A man of
deep faith and contemplative vision, he founded the Infant Jesus Sisters to respond to the poor, in a spirit of abandonment and trusting in God's Providence.
Mother Mathilde
Responding to the call to start education for girls in the East, she left France with a few sisters on this mission.
Her vision, faith, courage and endurance led her to set up a school for girls within ten days of her arrival in Singapore.